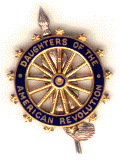 National Society Daughters of the American Revolution
FORT MIMS CHAPTER
North Baldwin County, Alabama
The Fort Mims Chapter NSDAR was organized in 1949 under the leadership of Mrs. Carl Slaughter. The name was chosen in remembrance of Fort Mims, the site of the largest Indian massacre in American history. Each fall the chapter conducts a memorial service to honor those who died on that fateful day, August 30, 1813.
For years nothing visible marked the location of Fort Mims. The chapter placed a marker in 1959, and in 1998 dedicated a new marble monument at the historic site.
| | |
| --- | --- |
| Organizing Regent - June Slaughter | DAR Monument |
Historic Fort Mims is located off Highway 59 in Tensaw, Alabama. Several chapter members serve on the Board of Directors of the Fort Mims Restoration Association promoting public awareness, education, and restoration of the site and an annual commemorative event.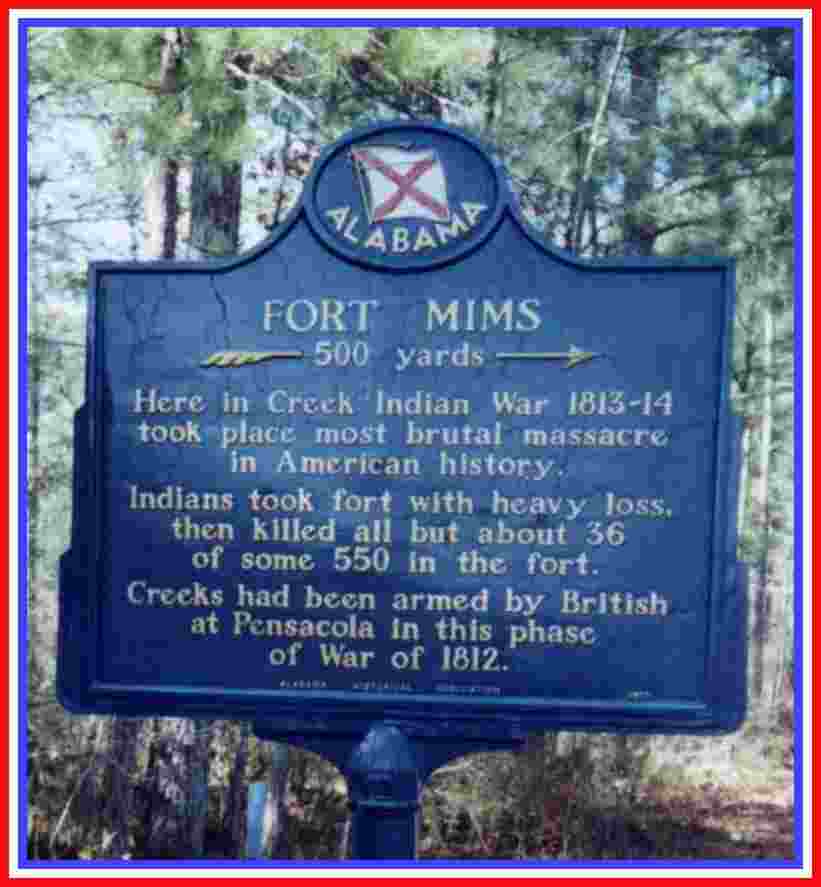 State Marker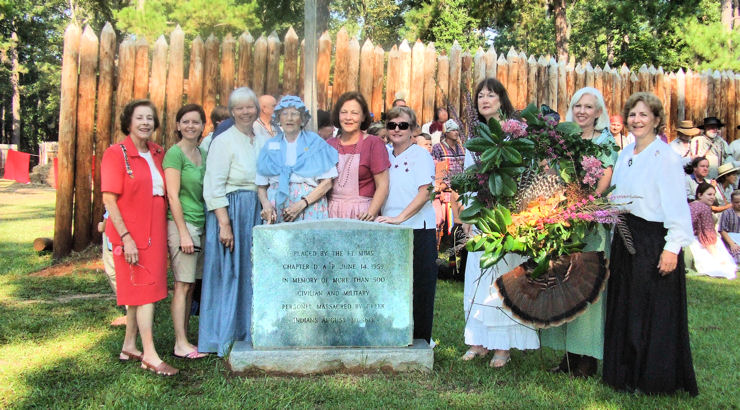 DAR Memorial Ceremony - Fort Mims Commemoration - August 2009
The chapter leads the memorial service as well as supporting many of the other activities throughout the commemoration. Pictured above are some Fort Mims Chapter members at the August, 2009 event.
Regular chapter meetings are held at 2:30 p.m. the third Thursday in each month starting with September and ending with the May meeting, unless otherwise indicated.

Chapter Officers 2012 ~ 2014

Corresponding Secretary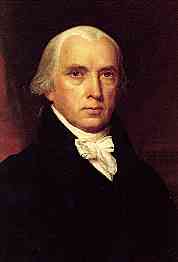 Click on Image of James Madison for List of Chapter Ancestors
LINKS to State and National Societies:
The DAR insignia is the property of, and is copyrighted by, the National Society of the Daughters of the American Revolution.
Web hyperlinks to non-DAR sites are not the responsibility of the NSDAR, the state organizations, or individual DAR chapters.

Web Page created by Ruth Sherrell
Updated May 28, 2013