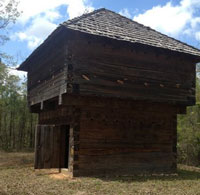 SPONSOR A LOG FOR THE BLOCK HOUSE
The funding campaign for the blockhouse at Ft Mims will be drawing to a close on June 15, 2013. If you would like participate in this worthwhile project, act now! Each log donor will have their name included on a plaque near the completed structure along with a dedication or memorial to an ancestor of Fort Mims or family member.
The blockhouse will be a beautiful replica of an 1800's log structure and will be re-constructed at the southwest corner of Fort Mims! Cost is $300 per log- partial donations happily accepted.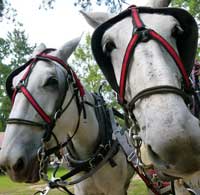 BECOME A FRIEND OF FORT MIMS
With a donation of only $20, you can become a friend of Fort Mims. Plenty of work is available for all, funds help with improvements on site, and Friends get pre-entry into all events.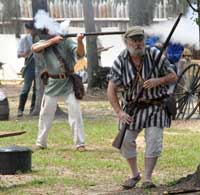 EXPERIENCE A DRAMATIC REENACTMENT!
Bring your friends and family to Fort Mims on the last weekend of August. Dressed in the 1800's-type attire of the early settlers and attacking Creek Indians, re-enactors allow history to dramatically unfold before you as black powder guns are fired breaking the silence of the quiet Tensaw Country! Women and children scream as the drama begins and the action around you comes alive. This unique portrayal allows you the opportunity to experience this tragic event and look back at the struggles of a young nation.


NEXT REENACTMENT :

204th Anniversary on August 26-27th, 2017
PARTICIPATE IN A REENACTMENT
If you are interested in joining with us for a life-like presentation of the attack on Fort Mims, contact us! All participants must have period correct attire and weapons. Descendants are encouraged to portray their ancestors, either as Settlers or Red Stick Creek Indians. Practice sessions are planned prior to the August event!